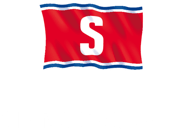 Carl-Johan Hagman
CEO Stena Rederi, Head of Shipping and Ferries
The shipping and logistics of the future are underpinned by IT innovations
Shipping retains many of its features that were established when the Dutch industrialized the industry in the 17th century.  The industry has managed several disruptions, such as the introduction of the steam engine, the opening of the Suez canal and the introduction of the container. Modern technology, enabling full transparency and access to empiric data, is most certainly another disruption that will yet again transform our industry.
Stena Rederi's core strategy and capability is to own and operate vessels. Currently we have an exposure of roughly 160 ships, from tankers to ferries. In order to ensure the long term viability of these assets it is an absolute imperative that we put them in a context that enhances and secures their value.
Therefore, Stena Rederi, as a traditional shipowner, has no option but to be in the forefront of this development. This means that we have to develop services that produce true value to the customer demands of tomorrow. Stena is now developing end-to-end logistics capability that not only will provide customers with full transparency and optimization, but will also integrate traditional shipping into our customers' supply chains.
Many shipping companies have tried to do this before, few have been successful. Only if we control both assets and data will we succeed. We have the assets, come help us with the data. You are much needed!