Join the Stena family and Group IT!
NOT JUST A GLOBAL SHIPPING COMPANY
Stena is so much more than one of the largest ferry operators in the world - and Stena Group IT is far from just another IT organization. We play a vital part in transforming this company by allowing all of our business areas to drive digital transformation in each of their respective industries.
Join us in building the new, exciting future of Stena - and we promise that you will have fun while doing it!
WHO WE ARE
The Stena Sphere includes the three wholly owned parent companies Stena AB, Stena Sessan AB and Stena Metall AB. Stena AB, is one of the world's leading shipping companies in the maritime areas of passenger traffic, bulk transport and cargo transport. Stena AB also operates subsidiaries in the real estate, recycling industry and in green energy.

Stena Group IT, one of many companies within Stena AB, effectively provides IT services and solutions for the companies within the Sphere together with external partners and suppliers. Besides making sure the IT operations and applications runs smoothly we also support the business in IT sourcing and ensuring group-wide IT architecture and security frameworks are maintained.
STENA GROUP IT BUSINESS AREAS
The IT-hub within Stena Group IT consists of five teams in charge of optimising the company offering by providing world-class, cutting-edge business technology integral to all aspects of our whole organisation. We have a vision to change the concept of business technology and become the number one employer in providing IT solutions.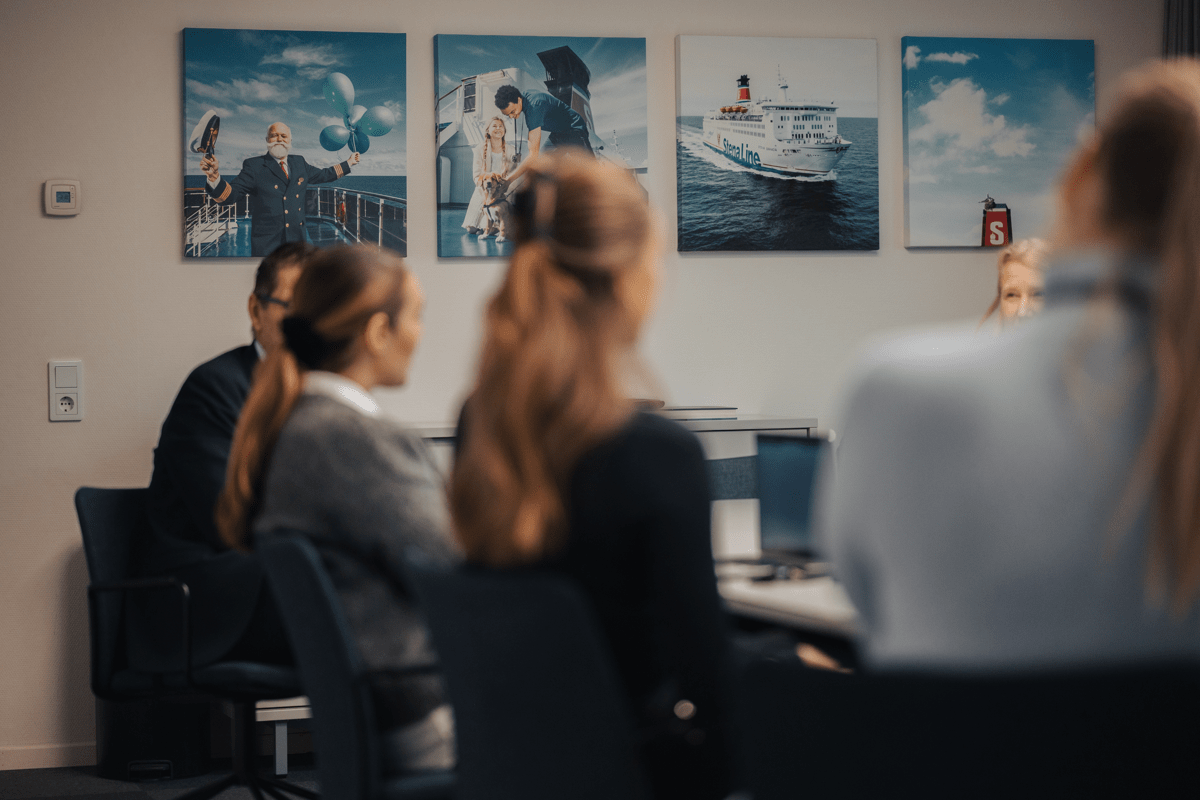 GET TO KNOW US
As a member of Stena Group IT, you will become one of 200 employees that plays a part in spearheading digital transformation across our entire range of diverse business areas.

We handle the business technology solutions that put us on route to becoming the world's first cognitive ferry company, we fine tune the data that make buildings and tenants interact and even shape the IoT technology and data prediction that will keep our nation-wide garden centers flourishing in the new century.
FRESH CAREER OPPORTUNITIES
BECOME OUR NEXT GRADUATE
By joining Stena Group IT's Graduate Program, you will play a part in the digitalisation of multiple organisations across Stena AB.
During 16 challenging months, you will experience and get a full understanding of how Stena drives digitalisation throughout our industries. You will work with the business units, management teams, and our four functions within Stena Group IT.

CARE, INNOVATION & PERFORMANCE
Stena's three core values, Care, Innovation and Performance, are the foundation of our day to day work in the Group. The focus on innovation is to a large extent the driving force in the work on energy efficiency at sea and ashore, and contributes to a reduced environmental impact. Ethical behavior in every aspect of the Group's operations contributes to care for employees and society. Safety and quality characterise the performance of all tasks.
With care, innovation and efficient performance as their guiding principles, our 17,200 employees around the world work every day to create value for our customers within our business areas Ferry Operations, Offshore Drilling, Shipping, Property, Finance and New Business.
WHO WE ARE
We are a dynamic value driven team that encourages personal development and strong relations among our co-workers.
Click on the video to find out more about who we are!
HOW WE WORK
We have embraced the new way of working and truly value a flexible workplace.
Click on the video to find out more about how we work!
About Stena Group IT
With care, innovation and efficient performance as guiding principles, our 200 colleagues at Stena Group IT are part of our 17,200 Stena AB employees around the world devoted to creating value for our customers within a range of different business areas - Ferry Operations, Offshore Drilling, Shipping, Property, Finance and New Business.